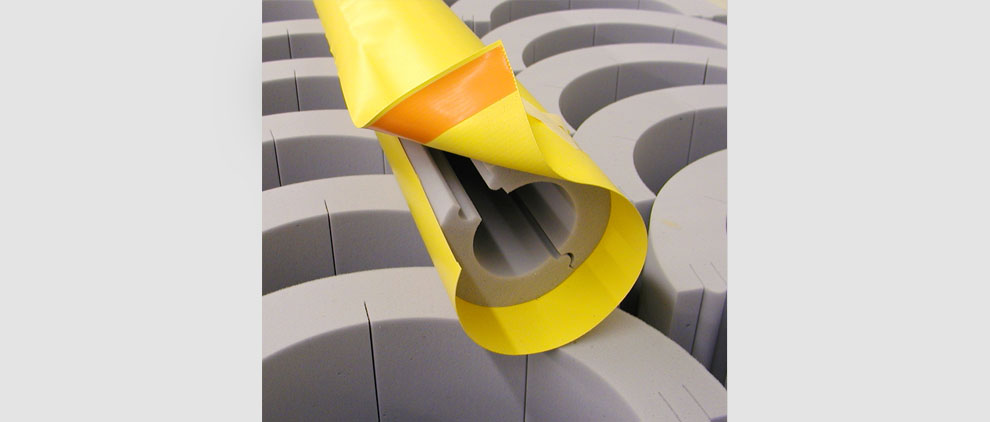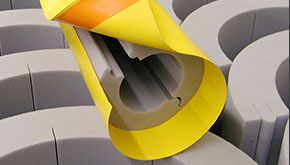 TECHLITE 379 Series insulation is a heavy duty insulation developed for demanding environments. High abuse and harsh U.V. conditions are no problem for the 379 Series.
The 379 Series uses a high strength, flexible PVC/fabric composite exterior jacket that is permanently laminated to the TECHLITE foam. The jacket is a UV stabilized, flexible PVC reinforced with polyester fibers providing exceptional strength and tear resistance while remaining flexible; enabling it to be impacted and return to its original shape while retaining its vapor barrier.
TECHLITE 379 Series is available as pipe insulation, flat sheet, and v-grooved sheets to wrap ducts, tanks, and large storage vessels.
In addition, several colors are available from the factory eliminating the need to paint after installing.
Uses and Applications
Heavy-duty indoor and outdoor use
Chemical and industrial plants
Tanks and vessels
Roof piping
Solar collector piping
Benefits
Highly resilient
Absorbes impacts
Maintains vapor barrier
Color coded jacketing
Jacket Material
PVC reinforced with PET fibers
Jacket Color
Variety available
Service Temperature
25/50 per ASTM E-84
Flame spread/smoke development
0.030"
Insulation Material
Flexible Open-Cell Melamine
Service Temperature
-40°F to 350°F
Density
0.44 ± 0.19 lb/ft3
Thermal Conductivity (K Factor) @75°
0.27 btu-in/hr-ft2-°F
Flammability
25/50 per ASTM E84
Standard Thickness
1",1.5", 2", 2.5", 3"
---