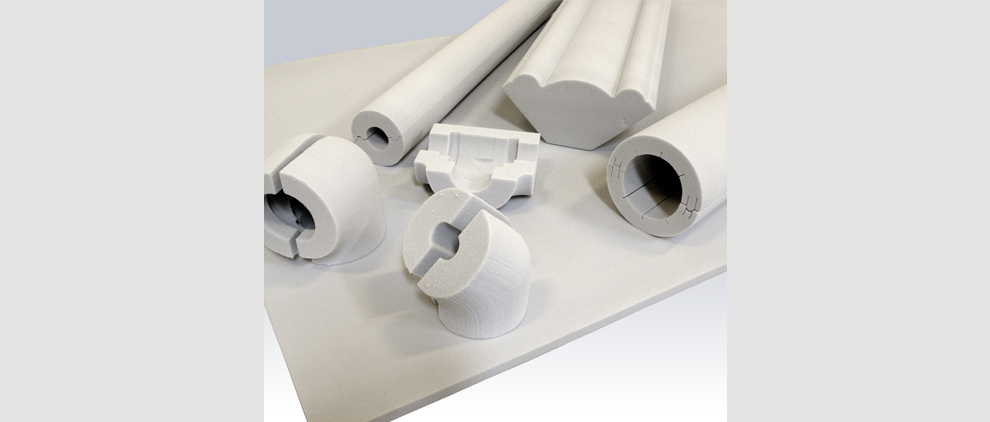 TECHLITE 079 Series is a lightweight, open cell melamine foam insulation developed as an alternative to traditional insulation systems. This high performance BASF foam insulation has a wide temperature range, low smoke and flame properties and is available in several sizes and shapes including preformed pipe insulation and fittings, flat sheets, die cut parts, and custom cut v-grooved sheets to wrap around large cylindrical surfaces. Custom shapes and profiles are available by request.
TECHLITE foam is a non-fibrous insulation that can easily be trimmed, cut, and sliced in the field reducing installation time compared to many other insulation materials. In addition to providing excellent insulation properties,TECHLITE Insulation also provides outstanding acoustical performance. 079 plain foam is also available with a variety of factory applied jacketing.
Uses and Applications
Complete pipe/tube insulation systems
Tanks and vessels
Clean rooms
Benefits
Works with field-applied jackets
Noise reduction
Insulation Material
Flexible Open-Cell Melamine
Service Temperature
-40°F to 350°F
Density
0.44 ± 0.19 lb/ft3
Thermal Conductivity (K Factor) @75°
0.27 btu-in/hr-ft2-°F
Flammability
25/50 per ASTM E84
Standard Thickness
1",1.5", 2", 2.5", 3"
---